Rosie Huntington-Whiteley truly inspired at the 'Inspired By Women' Campaign Launch in New York City on Wednesday. The event was designed to celebrate women around the world. Rosie adorned a dress that was most classy and also revealed quite a lot on this women oriented occasion.
The white tuxedo-style blouse showed up a gapping cleavage, yet one can say that Rosie wore the dress with confidence. Obviously the confidence emerges from years of experience. To supplement the blouse, Rosie combined it with black trousers featuring monochromatic side panels, a cavalier-style, gold-embellished belt and high heels.
At the 'Inspired By Women' event Rosie had a prominent presence and from the strategic angle she had an important role to play as she was 'Inspired By Women Ambassador'.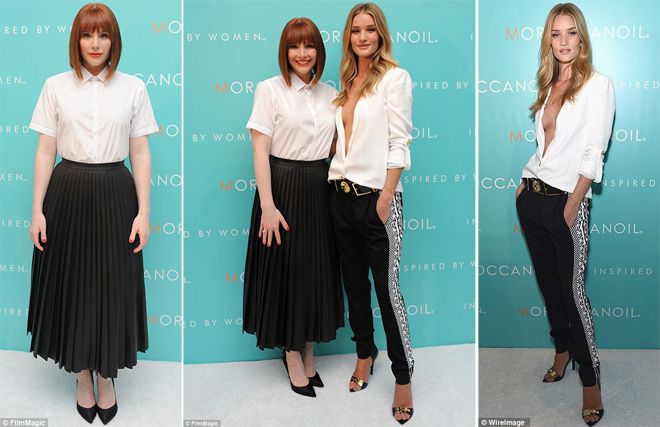 Rosie reflected a tilt towards actress-turned-director Bryce Dallas Howard, who incidentally in responsible for digital short-film series Inspired alongside RadicalMedia. Rosie posed with Bryce and the shoot looked simply awesome.
As for Bryce, she radiated schoolmarm charm with a black pleated skirt that fluttered to her ankles and a crisp white collared shirt with short sleeves. Additionally her white stockings and pointy black pumps fell in line to supplement her outfit's monochromatic scheme.
But Bryce wasn't all business as she posed smilingly next to the languid Devon-born Rosie. Rosie is known as a star of The Transformers and these days she has been occupied with launching her latest Rosie For Autograph underwear and lounging wear collection for Marks & Spencer.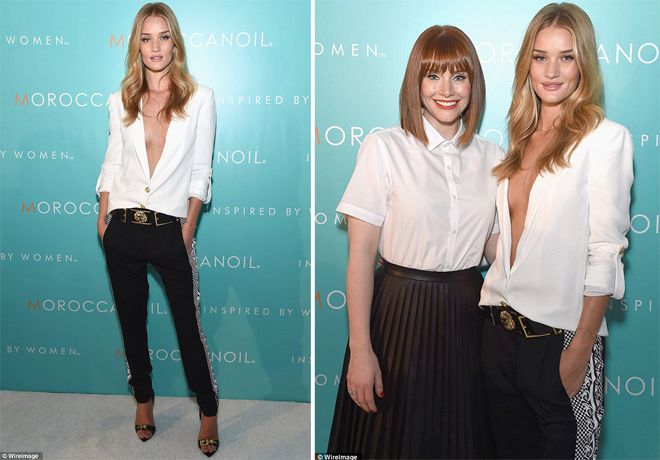 Rosie allocates her time between UK and US. Her residence is a in Los Angles and she shares the home with her long term boyfriend, British actor Jason Statham, 47.